Employer sponsored independent financial education is fast becoming best practice among leading companies who want a productive and profitable workforce.
INFO GRAPHIC
Keeping it simple
The Money School Method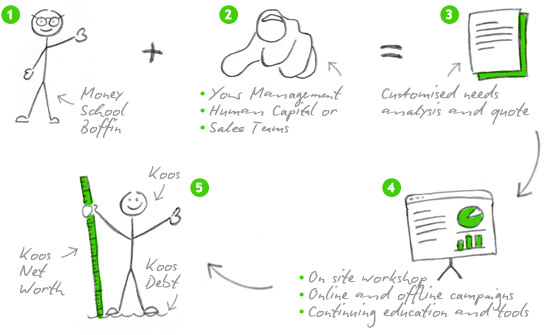 Most financial education programs are unsuccessful because they are conducted either as a reactive service or as a one time annual event by firms whose primary purpose is to sell financial services not to educate employees.
By contrast, The Money School and its Money Coaches approach financial education as an ongoing process delivering unbiased education and guidance through a number of different channels.
We have a standard programme that we can implement based on your company's needs analysis, or we can develop a bespoke solution with special consideration to your fiscal cycle, objectives and raise, bonus and holiday time periods.
We know that most of our learners are first timers to the world of money management. Like always, we have taken the time to keep things simple and 'non financial' for you. You will also find that we have set the tools up with the same ingredients wealthy people have used to move their lives forward.
Unbiased information
Understand your existing provider's revenue model. A financial education program should never be used as a conveyor belt for financial services sales.
Real world money rules
Effective programs must provide practical implementation advice over and above theoretical instruction. The ability to follow through and succeed hinges on a person's understanding of how the rules of money are applied in the real world by retailers, creditors and banks. Staff can remain outgunned if the content is not targeted around these critical success factors.
Easy-to-use tools
Employees want to be better managers of their money. What they lack are the tools to do it. In order to support immediate implementation, and reinforce the unique wealth-building focus of our programmes, The Money School provides employees with custom-built tools to manage spending and eliminate debt.
Communication platform
In order for businesses to adopt good fiscal management as an embedded corporate culture we need to create a shift in the current thinking. Our job is to develop a large group of motivated money managers within the staff compliment who take building wealth seriously. For this reason we provide a strong communication platform which combines both physical collateral, digital campaigns and mobile tools to support the new thinking.
Continuing education
There is a big difference in changing ones mindset and changing ones behaviour. Good money management takes place on a practical level and requires both attitudinal and instructional input on a regular basis. Since time is often a limited commodity within a business, The Money School provides a drip feed approach post workshops to ensure the continuing develop of staff's skill and confidence with handling their money.
Positioning of the program
Employees who need financial support are more likely to seek it out if the language is right. If you talk about debt people will run a mile, but if you talk about financial independence they get it. It's about creating the vocabulary of engagement in the workforce. The Money School is positioned as an aspirational program that people are excited to attend, promote and then implement in their personal lives.
Match made in heaven?
If you feel The money School can add value to your business objectives please
contact us
to set up a appointment for us to come through and meet with you.